Rally for pregnant woman who lost twins in 'racist' attack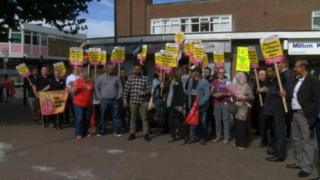 About 50 people have turned out to show support for a woman who lost her unborn twins in a suspected racist attack.
The 34-year-old Somalian woman fell over after being kicked and racially insulted outside a Co-op in Bletchley, Milton Keynes, last month.
A rally was held in the town centre on Saturday to condemn hate crime.
A man, 37, from Milton Keynes, has been released on bail until November after he was arrested on suspicion of racially-aggravated assault.
Members of the public and representatives from trade unions and campaign groups gathered for the event holding placards and banners.
Stand Up Against Racism helped organise the two-hour rally and the group's Kate Hunter said: "There's a minority of people who have destructive views.
"We want our voice heard to appeal to the best in people... We want a united, diverse Milton Keynes."
The attack victim was treated in hospital along with a 40-year-old man who was hit on the head with a bag of ice and a bottle.