Atul Shah murder: Luton pair jailed for life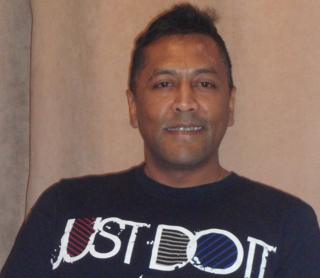 Two men have been jailed for torturing a cannabis grower and bludgeoning him to death with a dumbbell.
Atul Shah, 47, was found dead in Crescent Road, Luton, on 6 January.
Kyle Pitchford-Price and Luke West, both of Luton, were given life sentences at Luton Crown Court after they were found guilty of murder.
Pitchford-Price was jailed for 30 years and West for 26 years. Judge Richard Foster said the attack was an example of "extreme violence".
LIVE: More on this and other Bedfordshire stories
The court heard Mr Shah was bound and beaten by the pair, who had spent the night bingeing on drink and drugs.
Mr Shah had set up a mini "cannabis factory" in one of his bedrooms and was in the process of growing 20 cannabis plants under a tent with special lighting and fans.
The defendants knew about the crop and decided to rob him, the court heard.
An exercise dumbbell was smashed into his mouth with such force that three of his teeth were later found in his stomach, the court heard.
A chemical used for plant growth was poured into his face, the judge said.
Pitchford-Price, of Dovehouse Hill, and West, of Abbots Wood Road, were also sentenced to 13 years in prison for conspiracy to rob. Pitchford-Price also received a concurrent 2 year sentence for conspiracy to pervert the course of justice
Pitchford-Price's girlfriend Corrina Armstrong, 21, also of Dovehouse Hill, Luton, was convicted of conspiring to commit a burglary at Mr Shah's flat and conspiring to pervert the course of justice by providing her boyfriend with a false alibi. She was jailed for two and a half years.