James McCann trial: Abuse allegations 'not made up for financial gain'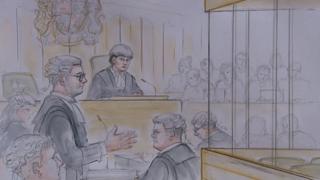 A former children's home resident who alleges he was mentally and physically abused has denied he made up the allegations for financial gain.
The witness was appearing at the trial of James McCann, 80, a housemaster at the St Francis Children's Home in Shefford, Bedfordshire.
The former resident was asked: "Have you said these things to get money?" and replied: "I certainly have not."
Mr McCann denies 52 charges of physical and sexual assaults on 26 boys.
The charges against him relate to an 11-year period between 1963 and 1974. Mr McCann is not attending court as the judge has decided he is not fit to stand trial.
'Paralysed with fear'
The Old Bailey heard the witness, who cannot be named for legal reasons, was sexually abused by Mr McCann between 10 and 12 times while he was in bed in a large dormitory at the Catholic children's home.
He told the court: "I just laid there. I was just paralysed with fear.
"I knew what was going on but I could not believe what was going on."
The witness described how he would be woken up by Mr McCann rubbing cream on him and then carrying out sex acts.
He claimed that he had reacted and cried out, but was told to "shut up" by Mr McCann, who lived in a room at the end of the dormitory.
He was about 12 years old at the time of the sexual assaults which went on for about 18 months, the court heard.
The former resident said he had reported the abuse to police in 2001, when he was interviewed as part of an investigation into a different children's home.
The trial continues.