St Albans firearms collector 'had no criminal intent', says judge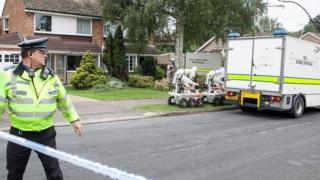 A man who admitted firearms offences after police seized weaponry from both World Wars from his home "had no criminal intent", said a judge.
Alan Tissington, 50, from Windmill Avenue in St Albans, Hertfordshire, was arrested in 2014 on charges which normally carry a custodial sentence.
He pleaded guilty to three charges of possessing ammunition without a certificate and three of possessing prohibited ammunition.
He was given a community order.
Judge Jonathan Carroll at St Albans Crown Court imposed conditions that during the 12-month order he carries out 150 hours of unpaid work and pay £1,500 prosecution costs. Other charges were either left on file or had not guilty verdicts entered.
He said the case was "unusual and exceptional" with most people facing the charges receiving an immediate custodial term.
"I accept you had no criminal intent and you never intended to possess live weapons or ammunition," he said.
'Over-egged case'
Mr Tissington had converted the garage of his home into a museum that displayed bombs, hand grenades, artillery shells and bullets, gas masks, rifles, military uniforms and flags.
After a tip off, the police raided the home on 17 September, bomb disposal teams were called to the property and nearby homes were evacuated.
Army bomb disposal experts seized explosive artefacts and blew them up in a nearby farmer's field.
Mr Tissington built up his war memorabilia collection from the age of seven, making purchases on eBay and at military fairs and discovering items while metal detecting in the UK and Europe.
Defence barrister Nicholas Doherty said Tissington was "one of the best known collectors of military artefacts in the country" and the crown had "over-egged" the case.
He said: "There was nothing dangerous in the museum. It was in his family home. He was not going to put his family and his neighbours in danger."
"He has perhaps been over-enthusiastic or not careful enough."
Judge Carroll said there was "nothing wrong with [the] hobby in itself" but he "shouldn't have had these items".