Autumn Gooch inquest: 'Judge refused foster care'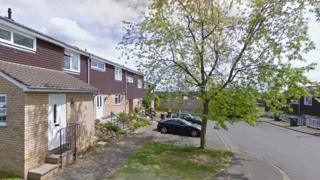 A toddler at risk of "significant harm" was found dead at her home within weeks of a judge refusing to put her into care, an inquest was told.
Autumn Gooch, who was 19 months old, was found on a bed in Maulden, Bedfordshire, in April 2015.
Ampthill Coroners' Court heard social workers deemed her parents unfit to care for her in February.
A judge at a Family Court hearing did not grant an interim care order, instead imposing daily visits.
Mother Nikki Gooch was initially charged with murder and then neglect over Autumn's death, but the case was later dropped.
'Intoxicated with baby'
Claire Collins, who supervised Autumn's social worker, said the family's case was due to be heard at court again on 13 April - but Autumn had died two days earlier.
The family had been the subject of a child protection plan since Ms Gooch was found "intoxicated" with Autumn in 2013.
Visits to the home at Becketts Close were higher than average and "things did not change", despite a high level of support, she added.
No injuries
The inquest heard there were issues concerning alcohol, domestic violence, general neglect and the confidence of both parents.
The father, Craig Macdonald, who was separated from Ms Gooch but lived in the house until 2015, was known to drink high levels of alcohol and Autumn was left with him when Ms Gooch worked in a pub.
The judge who refused the order to put Autumn into foster care said the family should sign up to a written agreement, requiring daily visits by social workers.
Circumstances "declined further", Ms Collins said, the written agreement was "becoming unsustainable" and Autumn was "at risk of significant harm".
The inquest heard there were no significant marks on her body or signs of injury. Autumn's brain showed signs of possible epilepsy but there was no history of the condition.
The hearing continues.