Watford man jailed for force-feeding faeces in 'sadistic' attack on woman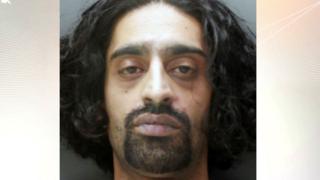 A man who carried out a "sadistic and violent" attack on a vulnerable woman, forcing her to eat food containing his excrement, has been jailed.
Attar Khan, 33, admitted attacking the woman, who he knew, on 6 January at her flat in Watford.
The victim, who has mental health issues, was stabbed and beaten over several hours, St Albans Crown Court was told. She went to police after he sent her to buy tobacco the next day.
He was jailed for 11 years on Friday.
Khan, of Trinity Hall Close, Watford, subjected the woman to the "ferocious" assault when he was "full of whisky, full of hate", Judge John Plumstead said.
His victim was stabbed and cut as she tried to defend herself against the attack which left her with a swollen and bruised face, and multiple "gaping" lacerations.
During the prolonged assault Khan filmed her eating food he had contaminated with his own faeces, and brushing her teeth with a toothbrush similarly contaminated.
At one point he made her get on her knees and beg for forgiveness, the court heard.
The woman went to police when her attacker allowed her to leave her home to get tobacco for him.
Khan pleaded guilty to assaulting the woman, causing actual bodily harm and wounding her with intent to cause her serious harm.
The court was told unemployed Khan had 18 previous convictions and spent his time drinking and taking drugs.
Sentencing him to 11 years in jail and a further four years on licence, Judge Plumstead told Khan: "It was a ferocious, sadistic and violent attack.
"You were brutal towards this young woman. She suffered really serious harm at your hands. You battered her."