Abandoned bag of cash in Lower Sundon was found by a police dog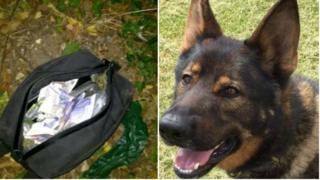 A bag found stuffed with cash and drugs following a crash was discovered by a police dog, it has emerged.
On Friday BBC News told how the bag, full of £10 and £20 notes, was discovered in Lower Sundon, Bedfordshire, during the early hours.
Police tweeted: "Did you lose a bag of money and drugs? Please come to police HQ where we'd love to chat."
It has now emerged the bag was connected with a road crash from which the driver is thought to have fled.
Police have appealed for anybody who saw a man in the area, described as being in his 30s, wearing a red sleeveless top and dark tracksuit bottoms. He is thought to have injured his face in the crash.