Bedfordshire Police in cash and drugs lost property plea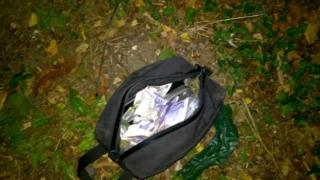 Police have encouraged the owner of a bag found stuffed with money and drugs to visit them for a "chat".
Officers found the bag, full of £10 and £20 notes, in Lower Sundon, Bedfordshire, in the early hours of Friday.
Officers tweeted: "Did you lose a bag of money and drugs? Please come to police HQ where we'd love to chat."
A number of people commented, with one replying: "Wait, if I come and collect it, you won't arrest me, right?"
The tweet, posted by officers from the Bedfordshire, Cambridgeshire and Hertfordshire road policing unit, was described as the "best ever" by some of their social media followers.
The officers' post included a photograph of the dark-coloured bag containing the cash and plastic bags of drugs.
Another tweet said: "Can you leave it where you found it please. I'll come and collect it later this evening."