Hertfordshire meat tweet police stop kebab man's van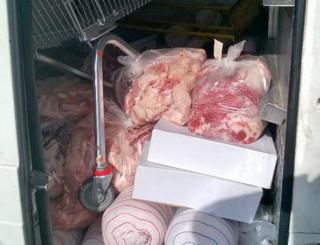 Police who stopped an overweight van on the M25 were surprised to find half a tonne of kebab meat inside.
The refrigerated vehicle was spotted in rush-hour traffic at about 08:45 BST near Watford in Hertfordshire.
On board officers found rolls of frozen kebab meat, bags of chicken and a shopping trolley. It was "an interesting storage method", they said.
The driver was told to contact a colleague who took part of the load before being allowed to continue.
Tweeting about the meat, officers from Bedfordshire, Cambridgeshire and Hertfordshire road policing unit posted a photo of the piles of meat, and said: "...Found to be half a tonne overweight with frozen kebab meat!"
'Dragging its rear'
PC Ben Pitelen told the BBC the driver had been to an early morning meat market in Edmonton in London, and was taking his load to an address in Woking, Surrey.
The van was pulled over as it was "pretty much dragging its rear down the road".
Although the vehicle was refrigerated, PC Pitelen said the "condition the meat was found in was a little suspect".
"You're not really supposed to bung a load of meat in a van and shove a shopping trolley on top," he said.
"It's a new one on me."
After being taken to a weighbridge and calling a colleague to safely transport part of the kebab cargo, the driver was allowed to complete his delivery - two hours after being stopped.