Rio 2016: Watford IT worker abused in Mack Horton Twitter mix-up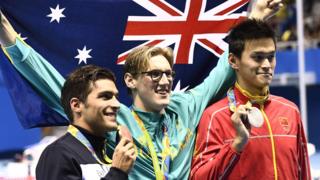 An IT worker got thousands of abusive tweets after he was mistaken for an Olympian who accused a rival of doping.
Mark Horton was targeted after swimmer Mack Horton, who won gold in the 400m freestyle on Saturday, said second-place Sun Yang, was a drugs cheat.
The Australian swimmer's Twitter account was bombarded with angry messages - as was the account of Mr Horton, of Watford, Hertfordshire.
"Luckily, I don't speak mandarin," he said.
"It made my weekend rather interesting."
The Olympic gold medallist also accused Yang, of China, of deliberately splashing him in a training session, saying: "I ignored him, I don't have time or respect for drug cheats."
In an interview after his win, Horton defended his comments, saying: "I used the words drug cheat because he tested positive.
"I just have a problem with athletes who have tested positive and are still competing."
He received a barrage of messages from Sun Yang fans, some of whom mistakenly typed "mark" instead of "mack".
Tweets to Mr Horton that can be repeated, include: "YOU SHOULD APOLOGISE TO SUN YANG YOU SHOULD LEARN TO RESPECT OTHERS!!!" and "Not only a liar and a loser in life but a coward who doesn't have the guts to admit what he say" [sic].
Mr Horton, who has not watched any of the Olympic swimming, tried to halt the messages on Sunday when he tweeted at the swimmer "@_mackhortn mate, just apologise! I'm getting abuse for something you said. #SunYang".
He also said: "For the record, I'm not the Australian swimmer who said something about a Chinese swimmer #sunyang".
Nevertheless, he received 1,000 mentions by other Twitter users on Sunday night alone, some of which were messages of sympathy and interview requests from British and Australian media.
He has since turned his notifications off.
"Back to the day job," he commented earlier.
Chinese swimming officials have demanded an apology over Horton's comments.
Sun served a three-month suspension in 2014 for testing positive for a banned substance but was cleared to compete.