Noah Serra-Morrison murder accused Hardeep Hunjan guilty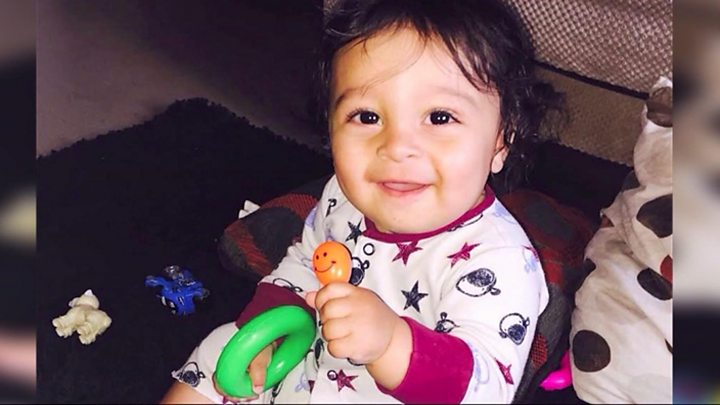 A man who "binged on drink and drugs" has been found guilty of murdering his girlfriend's 13-month-old baby boy.
Noah Serra-Morrison died as a result of a skull fracture at his home in Crawley Road, Luton in November.
Luton Crown Court found Hardeep Hunjan, 27, guilty of murder and of causing or allowing the death of a child.
Noah's mother Ronnie Tayler-Morrison, 22, was found guilty of causing or allowing the death of a child, and of cruelty but was acquitted of murder.
LIVE: For more on this and other Bedfordshire stories
The jury was told Noah died after sustaining a six inch (15cm) head injury, believed to have been caused by being slammed against a hard surface such as a wall or floor.
He had also suffered multiple limb fractures consistent with being twisted or swung.
Medical experts said the boy's injuries were similar to those found in people involved in a car crash or who who had fallen from a building.
The court heard the couple had binged on drink and drug's during Noah's last hours and blamed each other for his death.
The jury learned that the pair delayed calling paramedics for an hour as they tried to cover up the crime - claiming the child had fallen from his cot.
But a post-mortem examination revealed his injuries were inconsistent with such a fall.
Hunjan and Tayler-Morrison repeatedly lied to police during interviews and fled to Scotland after being released on bail.
Noah was confirmed dead at 04:10 at Luton and Dunstable Hospital.
Det Insp Fraser Wylie said: "Rarely do we come across a case that involves such sheer malice and utter cruelty against a small child, by two people who were supposed to love and care for him."
The pair will be sentenced on Friday.
A troubled relationship. Diary entries seen by the jury
28 and 29 August 2015 (Tayler-Morrison):
"So he got rude and I left him and bought [sic] Noah home. He turned up at my door, strangled me, threw me around, smacked a bottle on my head, broke the fish tank....Why can't God show him somehow that I haven't done any wrong to him. I love him why can't he see.
3 September (Tayler- Morrison):
He put his hands on me again. I can't accept this...
Followed by an entry believed to be by Hunjan:
You think I haven't had enough? After the way I have been with you and forgiven you and...bite my tongue for you. I suffer anger issues, sorry I have put my hands on you its not me I act out of character. You know what I'm really like right?... I moulded you into a woman. Your [sic] not a little girl anymore. Stick by me, love you Hx
18 September (Tayler-Morrison):
... I don't see life without him (and i know this sounds selfish but as much as I love Noah I feel like I love H more....
10 November, 10 days before Noah's death (Tayler Morrison):
I don't care what has happened all I no [sic] is that I still want him. Why am I so crazy about him... All I feel right now is ugly, wasted away, unwanted and unneeded. He said it himself, this is why I don't get along with anyone, furthermore this is why no1 wants to get along with me, and I bet it's the same with him. Just like the few close people I've had. One day he will leave me to [sic].