Speeding bikers banned for 'display of idiocy'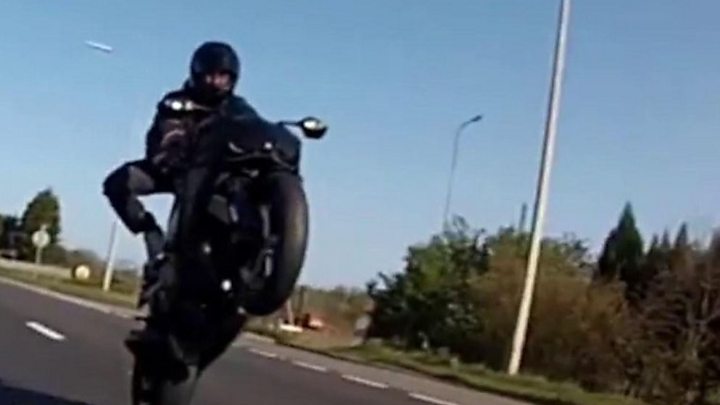 Six motorbike riders who filmed each other performing wheelies and reaching speeds of up to 146mph have been banned from driving.
The group used two cameras to film themselves travelling from Bedford to Hatfield in 2014.
Judge John Plumstead told St Albans Crown Court they "treated other road users like they were obstacles in a video game".
"It was an incredible display of idiocy," he said.
Prosecutor Miles Trigg said the journey, which began at the car park of Go Outdoors in Norse Road, Bedford, was recorded on two GoPro cameras that Matthew Langley had attached to his bike.
One of the six performed six wheelies while another was seen doing a "burn out" as he left a petrol station.
Langley finally stopped in the Hatfield Tunnel and tried to discard the cameras after police were alerted. They were recovered and the footage was used to prosecute them and Mercedes driver Alistair Turner, who became involved.
The judge told Langley he had behaved "like a complete idiot".
Mr Trigg said Langley had reached a top speed of 146mph, more than twice the limit.
All six riders admitted dangerous driving on 13 April 2014. Turner was convicted by a jury of the same charge.
Judge Plumstead told them: "The pack mentality meant you egged each other on. You give a bad name to those who go out to enjoy motorbikes."
Defendants and convictions
Matthew Langley, 37, of Banks Close, Marston Moretaine, was banned for three years
Jonathan Wartnaby, 31, of Farrer Street, Kempston, was banned for 18 months
Malik Blackburn, 31, of Corfe Road, was banned for two years
Axel Jones, 25, of Bedford Road, Turvey, near Bedford, was banned for 18 months
Kevin Saunders, 29, of Withnell Road, Blackpool, was banned for 12 months
Matthew James, 28, of Princess Street, Clapham, Bedford, was banned for 18 months
Alistair Turner, 50, of Raleigh Crescent, Stevenage, was banned for 12 months
All were ordered to take an extended retest and pay £500 prosecution costs apart from Turner, who must pay £2,700.