St Albans sinkhole: Further collapse 'unlikely'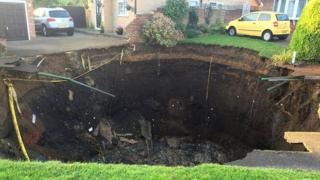 The chance of a giant hole appearing in the same area of St Albans where one opened up last year has been described as "unlikely" by the council.
The 33ft (10m) deep hole appeared in Fontmell Close, the site of a former chalk mine, on 1 October.
St Albans District Council said ground surveys showed no evidence of further voids beneath the road and other land.
It said investigations established the hole had been caused by historic mine workings.
A ground subsidence investigation report commissioned by Hertfordshire County Council and residents' insurance companies found the cause of the collapse was due to an "irregular style of old chalk mine working" below the road.
It also found the past mining operations were "effectively contained" within the footprint of the collapse and no evidence "indicated further significant mined voids".
St Albans Council has said that utilities can now be restored and the road repaired.
'Temporary solutions'
Following the road collapse, families in more than 50 homes were left without power, water or sanitation before temporary solutions were provided.
The county council said it is working with all the utility firms to coordinate the work of laying down permanent cables, pipes and drainage systems "as quickly as possible" so it can repair the road.
On completion, the four families still in temporary accommodation will be able to return to their homes.
Both roads will be monitored for any cracks or further signs of movement.
St Albans councillor Beric Read said: "Households in Fontmell and Bridle Close have endured months of disruption and uncertainty.
"We appreciate the patience shown by residents and their understanding that restoring the utilities is another complex task."