Baby amongst 'immigrants' found in lorry in Hatfield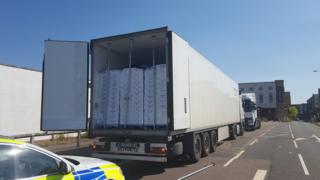 A three-month-old baby among 21 suspected illegal immigrants found inside a lorry, police have said.
Police were called to reports of a banging noise coming from inside the LGV while it was parked in Goldsmith Way, Hatfield, Hertfordshire, at about 15:00 BST.
All the lorry's occupants had been treated by paramedics and were safe and well, the force said.
The Border Agency has been informed, it added.