Yarl's Wood immigration centre staff 'not adequately trained'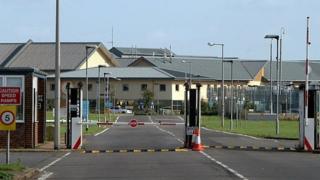 Staff at an immigration removal centre were "not adequately trained", an independent report has found.
Yarl's Wood in Bedfordshire holds more than 350 detainees, most of them women, awaiting immigration status decisions.
The centre is run by Serco under a Home Office contract, while health services are run by G4S under an NHS contract.
Serco said it welcomed the National Audit Office (NAO) findings and G4S said there was "still work" to do to improve the "overall service".
The NAO report focused on these contracts and management arrangements at the centre.
The report said: "The contracts required that training should be provided, but staff at the centre were not adequately trained to deal with the particular concerns, issues and vulnerabilities of those in immigration detention.
"G4S has been slow to meet its contractual obligations for training."
Other issues highlighted in the report include:
35% of recommendations from a previous inspection in 2015 have not yet been dealt with
Serco's reduction in staff meant there "were insufficient operational and management staff"
Services at Yarl's Wood did not fully meet the needs of users, partly because of a "lack of clarity about which contractor was responsible
The Home Office contract is over-engineered and creates large theoretical financial credits for even trivial deviations from the contract.
Julia Rogers, Serco's managing director of immigration, said she welcomed the NAO's findings, adding: "We understand and appreciate the vulnerability of the people in our care and the legitimate concerns that many people and organisations have about them and we will continue to work to ensure they are well looked after at this difficult time in their lives."
John Shaw, managing director of G4S for public services, said: "There is still work to do to continue to improve the overall service to detainees, particularly in terms of better joint-working across all agencies."
A Home Office spokesman said: "The contract is designed to ensure that contractors are encouraged to deliver the broad spectrum of services to a defined standard and at the heart of this delivery is the welfare and wellbeing of all residents. "