Man jailed for beating shopkeeper on spot where husband was murdered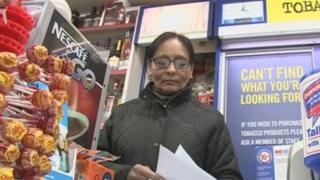 A man has been jailed for 12 years after trying to murder a woman in the same shop where her husband was killed six years ago.
Tomasz Jaworski, 31, pleaded guilty at Luton Crown Court to the attempted murder of shopkeeper Nirupa Patel, 56, on Christmas Eve.
She was beaten to the ground at Moon's Newsagents in Park Street, where her husband was murdered on 14 June 2009.
Jaworski also admitted actual bodily harm to two others at the same time.
The court was told Jaworski, of no fixed address, arrived at the shop at 05:00 GMT on Christmas Eve having already attacked another man.
He was ushered out of the shop by Mrs Patel's nephew, Jwalant Patel.
In a struggle, Jaworski hit Mr Patel on the head with a bottle, which left him feeling dazed.
Prosecutor Beverley Cripps told the court, Jaworski then picked up Mrs Patel and twice put his arms around her neck so "she felt her eyes were going to come out, such was the pressure".
He slashed her face with a piece of glass, pulled out her hair, kicked and punched her in the face and beat her over the head repeatedly with beer cans and tins from the shop.
The jury heard Mrs Patel ended up on the floor in the same spot where her husband, Jashbai, 59, was murdered.
The widow kept a photograph of her husband in the shop and lit a candle in front of it every day.
Mrs Patel told the court she had been forced to give up the business and added: "I lost my livelihood and my chance to keep his memory alive."
Mr Patel's killer, Richard Dettmer, was jailed for life in December 2009.