Shenley rape confrontation man jumps from tree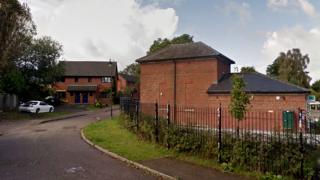 A man who raped a teenage girl jumped from a tree after his wife confronted him, a court has heard.
Sentencing Dale Hyde, 42, St Albans Crown Court said the tree surgeon wanted to kill himself after fleeing his Shenley home.
Hyde, of Boswell Close, Shenley, had previously admitted the attack, which took place on 27 December last year.
He was jailed for seven years and must register for life as a sex offender.
Hyde was also put on a sexual harm prevention order, which bans him from having unsupervised contact with girls under the age of 18 or having a job with children.
The court heard how police tried to talk Hyde down after he climbed 25ft (8m) into the tree.
When he jumped he was caught among the lower branches.
'Devastated'
Gary Venturi, for the prosecution, told how the victim had stayed the night on the sofa in Hyde's home.
The court heard he had previously kissed the girl and told her: "You are lovely. You have nice boobs."
But on the fourth visit he forced himself on her, saying "Don't tell your mum", the court heard.
Later that night, Hyde's wife confronted him and the girl in the kitchen and she called the police.
She was heard to tell Hyde, who was holding a craft knife: "You go and slit your throat now."
Mr Venturi said Hyde drove off with a hosepipe but crashed the car. He then climbed the nearby tree.
Defending, Rose Burns said: "He is devastated by what he has done and, through me, wants to express his real shame and sorrow for the events that evening."