Baby Noah Serra-Morrison was 'swung against a wall or floor by his limbs'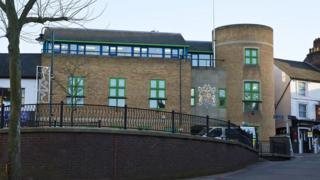 A baby boy died after being swung against a wall or floor by his limbs, a jury has heard.
Noah Serra-Morrison was 13-months-old when he died at his mother's Luton home in Crawley Road which she shared with her boyfriend.
Prosecutors at Luton Crown Court claim the boy suffered a catalogue of injuries in the weeks before the massive head injury that killed him.
His mother Ronnie-Tayler Morrison and her partner Hardeep Hunjan deny murder.
'My Baby is Hurt'
Last November Noah was found not breathing and with no heartbeat by an ambulance crew when they arrived at the family home.
Jane Bickerstaff, prosecuting, said medical experts had concluded his injuries were so severe they were similar to those likely to be found in a car crash or a fall from a building.
It is alleged Miss Tayler-Morrison, 21, and her partner Mr Hunjan, 26, told neighbours, ambulance staff, police officers and hospital staff that the child injured himself in a fall from his cot.
Such a claim, said Miss Bickerstaff, was impossible and that Noah's injuries were likely to have been caused when he was deliberately and violently swung against a wall or floor by his limbs.
She said that before his mother had phoned for an ambulance, she had used her phone to google "My Baby Is Hurt" and "My Baby Is Breathing But Not Moving".
Prof Anthony J Freemont, a pathologist specialising in childhood bone diseases, said Noah had suffered fractures to his skull caused some 30 minutes to two hours before he died, as well as many fractures to his right arm.
Prof Freemont said a fracture in Noah's leg occurred when the knee area was held in position before the foot and lower part of the leg were twisted.
The jury was told neighbours of the couple frequently heard them arguing, with walls banging and shaking and the baby crying.
The case continues.