Testicle removal surgeon Marwan Farouk struck off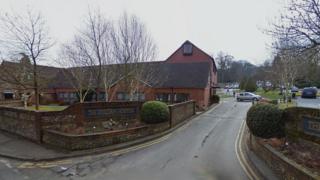 A surgeon who tried to cover up the fact he had cut off a man's testicle in error has been struck off.
The organ was removed at the private BMI Chiltern Hospital in Buckinghamshire in April 2014.
The Medical Practitioners Tribunal Service (MPTS) heard Dr Marwan Farouk, who had been supposed to remove a cyst, disposed of the testicle and did not tell the patient it had been removed.
The MPTS ruling said Dr Farouk had been misleading or dishonest.
'Chuck it'
In a case brought by the General Medical Council (GMC), the tribunal heard Dr Farouk was meant to repair a hernia and remove a cyst on the epididymis, which is attached to the testicle, at the hospital in Great Missenden.
However, he removed the patient's entire right testicle.
For more Buckinghamshire stories, visit the BBC Local Live page
A theatre nurse told the tribunal she had been told to "chuck it", or words to that effect, although it was the doctor who actually disposed of the testicle in a medical waste bin.
After the operation, Dr Farouk failed to tell the patient it had been removed and instead told the man "he had a small right testicle, but it won't give you any problems", or words to that effect.
Dr Farouk admitted to the hearing he had removed the testicle and failed to ensure it was sent to the histology department for testing.
The tribunal did not believe Dr Farouk's evidence that he had not recognised the specimen to be a testicle and that was why he had not recorded any tissue being removed.
'Deliberate acts'
The ruling said: "As an experienced surgeon, even on a cursory examination, you must have recognised the specimen for what it was.
"This was a series of deliberate acts designed by you to cover up the fact you had made an error."
The tribunal found it was not proven that Dr Farouk had operated outside his area of expertise or that he failed to tell the patient's GP that the entire testicle had been removed.
The ruling concluded that the surgeon's misconduct meant his fitness to practise was impaired. He has 28 days to appeal.
A BMI spokesman said: "Dr Farouk's practising privileges at the Chiltern Hospital were removed following the incident and our own investigation.
"We will apply any lessons learned from the hearing."