Hertfordshire PC Simon Salway 'could have been stopped'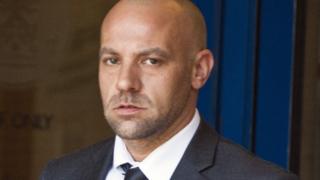 A police officer who had sex with vulnerable women he met through his work could have been stopped years earlier, one of his victims has said.
PC Simon Salway, 39, from Hertfordshire, targeted the women after they contacted the police for help.
Lorraine Tate, 42, who had a child with Salway, said she passed concerns to police about his behaviour in 2008. He was convicted last year.
Hertfordshire Police said it was "appalled at the actions of Salway".
It declined to comment directly on Ms Tate's claim.
Salway was convicted in December of six charges of misconduct in a public office in relation to five women. He was acquitted of a seventh misconduct charge involving another woman.
He was jailed for three years in January.
Live: More on this and other stories from Hertfordshire
During his trial at Luton Crown Court, the jury heard Salway, who was based at Hatfield Police Station, had "wilfully abused" his position over a sustained period of time.
Some of the women he pursued were the victims of domestic violence at the hands of abusive partners, the court heard.
Ms Tate, who has now waived her right to anonymity, met Salway in 2007 after she was a witness to a crime and was being threatened.
They had a six-week relationship which she ended when she discovered he was married and before she knew she was pregnant.
She made a complaint to the force in 2008 as Salway had been seeing her on police time.
She said she was assured they would look into it but had no further correspondence from them.
Salway continued having sex with women he met on duty until 2014.
Ms Tate says if Herts Police had stopped Salway in 2007, he might no longer have been a police officer.
"I'm lucky, I'm quite strong, I've come through this and out the other side," she said.
"But I do believe they could have stopped him, he was an officer that they couldn't control."
During the trial, the judge, referring to Ms Tate - known as victim LT - said: "Although this female did complain and the complaint reached an inspector it seems nothing was done about it. The inspector informed [Salway] of the complaint yet the misconduct continued."
In court, Salway's inspector said he could not recall passing Ms Tate's complaint to Professional Standards but admits that is what should have happened.