Noah Serra-Morrison death: Grandmother told scratching from family dog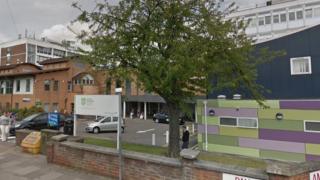 The grandmother of a baby boy who suffered a fatal head injury was told scratches and bruising on his face was caused by the family dog.
Ronnie Tayler-Morrison, 21 and her partner Hardeep Hunjan, 26, deny the murder of 13-month-old Noah Serra-Morrison in Luton on 20 November.
They also deny causing or allowing the death of a child and cruelty by wilful neglect.
Luton Crown Court has heard the death "could not have been an accident".
Maria Serra, Noah's grandmother, told the jury how the last time she saw her grandson alive was two weeks before his death.
He had come to stay at her home for a weekend, she told the jury.
'Help him'
Asked if she had noticed anything particular about him on that occasion, she replied: "Yes, a massive bruise on the left side of his face."
She said she questioned Miss Tayler-Morrison about how the bruising and scratches had occurred.
"I said 'what happened to Noah's face?' and she said it was the dog that had jumped on him and scratched him when it was playing with him."
She said the night before her grandson died, she had phoned Miss Tayler-Morrison to see how he was.
Mrs Serra said she could hear her grandson crying on the phone and when she spoke to him down he seemed very distressed.
"He was calling me Nana, Nana. It looked like he was asking me to help him or something."
The trial continues.