IPCC's criminal investigation into officers after man dies in Bedford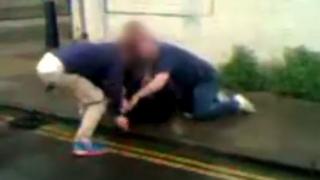 A criminal investigation has been launched into three police officers after a man died while he was being detained, the police watchdog has said.
Karl Brunner, 48, was pinned down by officers during the arrest in Bedford at 12:35 BST on 11 May and pronounced dead at Bedford Hospital at 13:17 BST.
A post-mortem did not identify the cause of death.
The Independent Police Complaints Commission said the officers were served with gross misconduct notices.
The watchdog's investigators are examining the police constables' use of force during Mr Brunner's restraint and the provision of emergency medical care.
Investigators looked at footage of the incident from CCTV and the body cams of two of the officers involved. Alleged footage of the incident was also been posted online.
Commissioner Mary Cunneen said: "Following careful consideration of the evidence we have gathered so far, we have now launched a criminal investigation into the circumstances surrounding Mr Brunner's death.
"The launch of a criminal investigation does not mean that charges will necessarily follow."