St Albans slavery trial: Johnny Moloney found guilty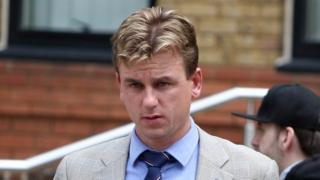 A man who forced a labourer to live in a shed and work 14 hours a day without pay has been found guilty of slavery charges.
Johnny Moloney, also known as Johnny Murphy, of Watford Road, St Albans, held Cameron Biggar in slavery between 2010 and 2014, his trial was told.
Moloney picked up homeless Mr Biggar with the promise of work and somewhere to live, St Albans Crown Court heard.
Moloney, 30, is due to be sentenced at the same court on Friday.
Taken to Ireland
He was told by Judge Andrew Bright QC he is likely to face a lengthy period behind bars.
Mr Biggar, 43, carried out unpaid block paving and building work, the trial heard.
During his time in servitude he was taken to work in Ireland, Norway, Sweden. Manchester, Birmingham and Nottingham.
Moloney was found guilty of knowingly holding a person in slavery or servitude and knowingly requiring another person to perform forced labour.
Earlier this week the judge directed the jury to find Moloney's wife Shanon Loveridge, 22, also of Watford Road, St Albans, not guilty of the two charges.