Noah Serra-Morrison death: Baby's injuries 'not an accident'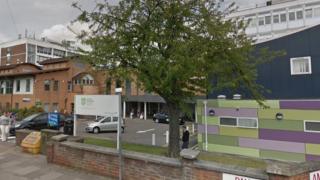 A baby boy died from a head injury which his mother later claimed was caused when the child fell out of its crib, a court has heard.
His mother Ronnie Tayler-Morrison, 21 and her partner Hardeep Hunjan, 26, deny the murder of 13-month-old Noah Serra-Morrison in Luton on 20 November.
They have also pleaded not guilty to causing or allowing the death of a child and cruelty by wilful neglect.
Luton Crown Court has heard the death "could not have been an accident".
Prosecutor Jane Bickerstaff QC told the jury the toddler died of a "massive head injury" and the prosecution could "prove Noah's death was murder".
She said in addition to the fractured skull the baby had suffered 15 fractures of his arms and legs that same night.
"The injuries inflicted could not have been an accident," she said.
'Suspicious explanation'
The court heard on the night he died, the toddler had been with his mother and her partner at their ground floor flat in Crawley Road.
Shortly before an ambulance was called, Miss Tayler-Morrison used her mobile phone to search for terms including "my baby is hurt" and "my baby is breathing but not moving".
She is also alleged to have phoned her sister to say she had put her son in his cot but when she went to check on him she found him lying on the floor.
An hour and a quarter later she called an ambulance. Paramedics found Noah was not breathing, had no heartbeat and had swelling on the right side of his head.
Miss Tayler-Morrison is alleged to have claimed to ambulance staff that her son had fallen out of his cot.
The baby was taken to Luton and Dunstable Hospital where he was pronounced dead. A doctor told police at the hospital the mother's explanation was "suspicious" and the injuries were not consistent with a fall from a cot.
Miss Bickerstaff said the injuries were consistent with his head having been smashed against a hard surface like a "wall or a floor".
The trial continues.