Flood-hit Ardley Hill Academy finds new home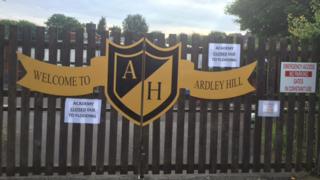 The head teacher of an academy damaged in last week's floods says pupils will be moving en masse to another school.
Rainwater mixed with waste from overflowing drains came under doorways and up through sinks and toilets at Ardley Hill Academy in Dunstable.
Head teacher Jonathan Smith says Brewers Hill School will temporarily host all of the academy's pupils.
"I cannot stress enough how generous this offer is," he said. "We are humbled by this lifeline."
In a letter to the parents of the 450 pupils, Mr Smith said: "James Hughes, the head teacher at Brewers Hill, is moving mountains for us so that we can be in the same location together at his school. At one point we were looking at alternatives which would have meant up to four different sites!"
He said four temporary buildings and toilet facilities would have to be added to the Brewers Hill site.
"Their kitchen needs more equipment to cope with the influx of our children," he said. "We then need the sterilisation of tables and chairs at our site and the all clear to collect equipment, but I am confident this can all be turned around in a matter of days rather than weeks."
Mr Smith said the academy's pre-school should reopen later this week.
Speaking before the "miracle" solution was found, Mr Smith told the BBC an "unprecedented" amount of water had entered the building.
"We had approximately three feet of water up to the building," he said.
"Comparatively, what entered the building was only about an inch or two of water but it flooded all the way into the building and soaked into carpets and through into the concrete floor.
"The water was coming up through internal manhole covers, toilets and sink areas... it was quite dramatic."
The environmental health department said children could not go into the school due to the "serious risk of exposure to harmful bacteria".