Pc Jon Henry: Street memorial for murdered officer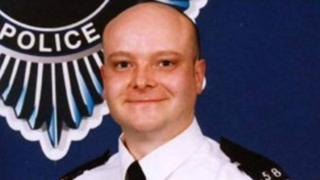 A memorial service for a police officer stabbed to death while on duty will be held at the spot where he died on Saturday.
PC Jon Henry, 36, was murdered in George Street, Luton, on 11 June 2007 as he tried to arrest paranoid schizophrenic Ikechukwu Tennyson Obih.
Colleagues and senior officers will attend a short service at his memorial stone outside BHS.
On Friday, his wife and daughter opened a housing scheme named after him.