St Albans couple 'held homeless man as slave'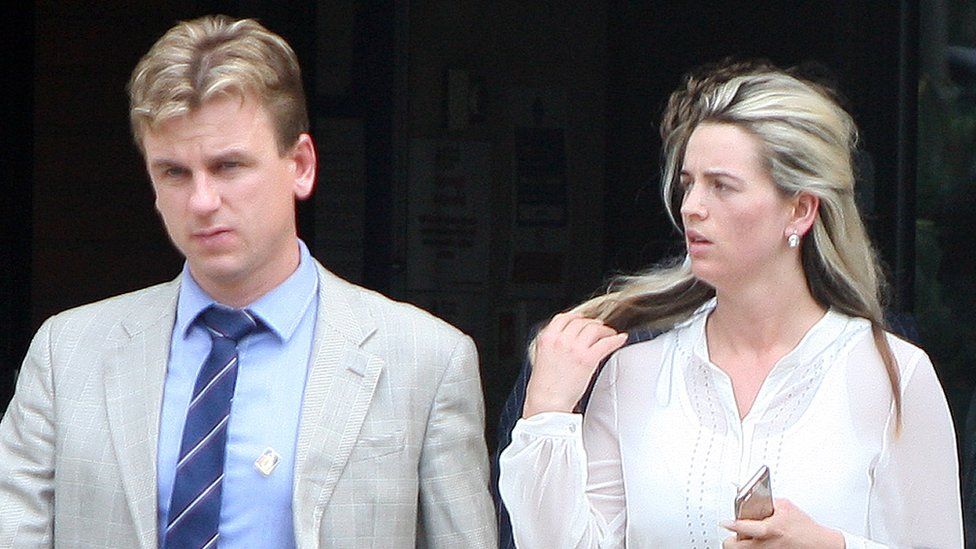 A husband and wife forced a homeless man to carry out unpaid work for up to 14 hours a day, a jury has heard.
Cameron Biggar, now 43, was allegedly held by Johnny Moloney, 30, and Shanon Loveridge, 22, between 2010 and 2014.
The couple deny knowingly holding a person in slavery or servitude and knowingly requiring another person to perform forced labour in St Albans.
Prosecutor Peter Shaw told St Albans Crown Court Mr Biggar was verbally and physically abused.
The court heard he had been sleeping rough in London and was depressed and alcohol-dependent when he was picked up by Mr Moloney in 2004.
He was taken to St Albans and carried out building and paving work, often for seven days a week, around the UK and in Norway and Sweden.
He slept in the front of a lorry, a camper van and a shed which he shared with eight or nine other "destitute" men.
Mr Moloney bought him a passport, which he kept under his control, the court heard.
Mr Biggar was not paid until 2011, when it came to light that a man had been jailed for modern day slavery.
He was then given £30 a day but told to say, if asked by police, that he earned much more and was well looked after.
The jury heard he made an escape attempt soon after arriving in St Albans and was allegedly tracked down by Mr Moloney, put in a cabin and given sleeping pills.
Mr Shaw said: "He said that [Mr Moloney] would sometimes slap him in the face, about five times in total.
"He told the police that Johnny Maloney had threatened to kill him before when he had failed to get enough business for work."
He eventually made a 999 call on Christmas Day 2014. Police arrived to find him in a camper van at the back of the couple's house in Watford Road, St Albans.
Mr Shaw said Mr Moloney clearly picked up Mr Biggar and enforced his participation in work, while his wife knew what was going on and made Mr Biggar clean the car and mind her children.
Related Internet Links
The BBC is not responsible for the content of external sites.