Patricia Wilson murder: Jean-Louis Cayrou 'absolutely unconvincing'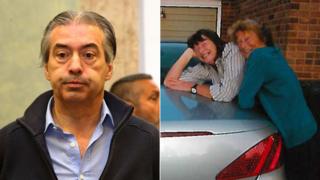 A French gardener accused of murdering his British lover has had his story described as "absolutely unconvincing".
Jean-Louis Cayrou, of La Salvetat-Peyrales, denies killing Patricia Wilson at her home in southern France after their relationship ended.
Mr Cayrou, 54, has said he visited her house, panicked when he found blood and fled, fearing he would be blamed.
Manon Brignol, general lawyer in court, asked the jury - which has now retired - to find Mr Cayrou guilty.
The victim, formerly of Welwyn Garden City in Hertfordshire, vanished from her hamlet near the village of Vabre-Tizac in August 2012. Her body has never been found.
The trial at the Cour d'Assises de l'Aveyron in Rodez, near Toulouse, has lasted a week.
Earlier the jury heard a statement from Mrs Wilson's mother Jean Wilson, 84, who said: "To lose a child is a devastating experience. To lose a child in this manner, through an act of extreme violence, is simply indescribable."
The trial has heard that the victim and defendant had a brief relationship while her partner Donald Marcus returned to Britain to seek treatment for multiple sclerosis.
Mr Marcus, 58, has told the court he and Patricia Wilson had been "very happy together".
The defendant's lawyer Jacques Levy read extracts from Ms Wilson's journal which read: "Why does he [Mr Marcus] hate me so much? What happened to the man I met who was affectionate, loving?"
Maryse Pechevis, prosecuting lawyer, criticised the defence for choosing to read a few selected extracts from "pages and pages" of notes.
Asked by the judge Regis Cayrol if he had killed Mrs Wilson, Mr Marcus said he had "no reason to harm her".
Ms Brignol suggested Cayrou had hit Mrs Wilson "very violently", possibly with a weapon, at least twice.
Mr Cayrou wept as his lawyer Mr Levy asked the jury to "bring justice" and find him innocent.
The jury is expected to deliver its verdict on Monday evening.