Elderly ravers tear up Fabric dancefloor with tea and tequila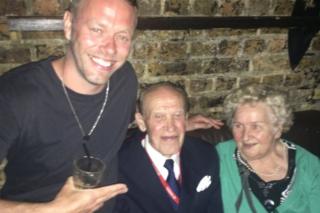 An elderly couple are the talk of the clubbing scene after dancing the night away at London superclub, Fabric.
The pair, thought to be in their 70s, started the evening drinking two shots of tequila before asking for cups of tea, DJ Jacob Husley said.
He said the couple, from Poland, decided to check the WetYourSelf! house and techno night out while visiting their daughter in Watford.
They did a spot of ballroom dancing and stayed until 05:00 BST, he added.
"They seemed really happy. They were mainly sitting down [but] went together to dance a bit on the dancefloor as well.
"What an amazing couple," he said.
Mr Husley, who runs the night, said the elderly ravers told him they usually go to their local disco at home but purchased tickets online after reading a review of Fabric in a newspaper.
A picture of the pair sitting in the club with the DJ has been shared on Facebook more than 4,300 times since Monday.
Fabric, which hosts resident and guest DJs playing drum and bass, dubstep, house and techno, is a three-room venue in Farringdon with a capacity for 2,500 people.