Natalia Doherty death: Man summonsed over Luton death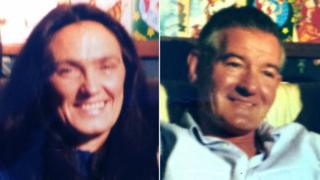 A second man is facing charges relating to the death of a woman whose remains were found 12 years after she vanished.
Mother-of-three Natalia Doherty, 50, was last seen in 2003 and her body was found in a garden in Luton last year.
Joseph Doherty, 72, of Port Glasgow has been summonsed to Luton Magistrates' Court to answer charges of preventing a lawful burial, obstructing a corner and perverting the course of justice.
Another man has already been charged with the same offences.
Daniel Doherty, 67, of Icknield Way, Luton, is due in court with Joseph Doherty on 26 May.
Bedfordshire Police launched a murder inquiry in 2003 after Ms Doherty, who was also known by the surname Wilkanowska, disappeared.
Detectives believed she had travelled to Luton to stay with her late ex-husband Gerald Doherty at the now-demolished Regents Arms on Hastings Street.
Her remains were found at an address on Icknield Way in December.