One-punch killer Cortney Batchelor jailed for four years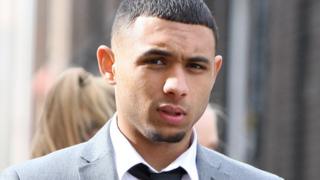 A civil engineer who killed a man with a single punch during a night out has been jailed for four years.
Cortney Batchelor, 22, from Luton, attacked Tomas Juska outside a bar in Dunstable last August.
He said he punched Mr Juska in self defence but was convicted of manslaughter at Luton Crown Court in April.
The jury heard the pair had argued inside Club Cookies before the assault.
Read more on this story and others from Bedfordshire
Sentencing, Judge Richard Foster told Batchelor: "You knew full well he was no threat to you and yet you punched him with such force.
"You are still in denial about your conduct."
The court heard Batchelor hit Amazon employee Mr Juska with an upper-cut punch, causing him to fall backwards and hit his head on the pavement, in the early hours of 23 August.
The 24-year-old was immediately knocked unconscious. The jury was told Batchelor and his friends laughed before leaving the scene.
The Lithuanian national suffered a lethal brain injury and died the next day.
The pair had argued after Mr Juska gave his number to Batchelor's girlfriend who worked at the club.
The victim's brother Viadas said: "I do not blame the person who punched him because I realise that it takes two people to be involved in something like this.
"But... it isn't fair that Tomas was killed in such a way."
Batchelor will miss his child's birth due to his prison sentence.
Det Insp Fraser Wylie, of the Bedfordshire, Cambridgeshire and Hertfordshire Major Crime Unit, said: "These days it seems so hard to turn the other cheek but that's what needs to happen.
"I hear too much about 'he disrespected me' - you know what - be the bigger man, walk away."