Alexa-Marie Quinn murder: Councils failed to understand risks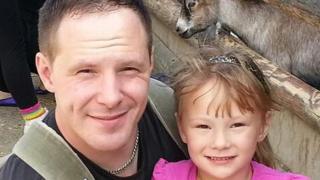 Two councils misunderstood the risks posed to a four-year-old girl who was beaten to death by her father, a serious case review has found.
Alex-Marie Quinn had 66 injuries when she died in Hatfield, Hertfordshire, in March 2014.
Her father, Carl Wheatley, 32, is serving a life sentence for her murder.
The review found weaknesses at Bedford and Hertfordshire councils and that less rigorous checks were made on Wheatley because he was her father.
The assessments which were carried out were inadequate, the report states.
Read more: 'No-one' considered her to be at risk
It makes 12 recommendations and said the councils also failed to sufficiently consider a psychiatric report and did not adequately challenge an independent social worker.
Fears for Alexa-Marie
May and June 2013: Alexa-Marie's foster carers in Bedford raise concerns about Wheatley's contact with her.
September 2013: A psychiatric report raises concerns about Wheatley's behaviour. A psychiatrist felt "intimidated by him" and takes 45 minutes to calm Wheatley down.
September 2013: A Bedford Borough social worker files a report stating that Alexa-Marie should be placed with her father as soon as possible.
October 2013: Luton County Court makes a residence order in favour of Wheatley, with a Hertfordshire student social worker allocated to the case a month later.
November 2013: A decision is made that no action will be taken after Alexa-Marie says her father had hit her.
December 2013: Foster carers repeat their concerns, but Alexa-Marie is placed in her father's care at the end of the month.
Wheatley subsequently cancelled visits with Hertfordshire social workers, kept her away from nursery and cancelled home visits. The nursery raised concerns with social workers, but no action was recorded.
Wheatley, who St Albans Crown Court heard had multiple mental health disorders, had been granted custody of his daughter three months before her death.
She had been removed from her mother's care some years earlier and had been living with foster parents in Bedfordshire before moving in with her father.
The jury was told Wheatley beat Alexa-Marie with "hard, sustained, persistent hitting" after losing his temper. The blows were delivered with such force that fat deposits entered her bloodstream and blocked her lungs.
A pathologist found she died from "extreme blunt-force trauma".
'Welfare is paramount'
Kevin Crompton, director of children's services at Bedford Borough Council, whose social services team was involved in the case, said: "We have already taken action to strengthen our social work practice and to ensure we improve our approach to cases such as these which involve more than one local authority.
"We remain saddened by the fact her murder was at the hands of someone the courts, and professionals, judged was a suitable parent and should have been protecting her from harm."
Jenny Coles, director of children's services at Hertfordshire County Council, said: "Welfare of children is paramount and we are doing everything in our power to try to ensure that what happened to Alexa-Marie does not happen to another child in Hertfordshire."
The review makes recommendations for Children's Services in Bedford and Hertfordshire, Cafcass, which represents the interests of children in family court cases, the legal system and "multi-agency processes created to protect children at risk of abuse and neglect".
Wheatley admitted killing Alexa-Marie but had denied murder on the grounds of diminished responsibility.
He was told he must serve a minimum of 21 years.