Drug courier Malcolm O'Halloran jailed after up to £12m cocaine found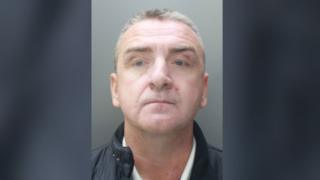 A man has been jailed after cocaine worth up to £12m was found in his van.
Malcolm O'Halloran, 51, was arrested and the drugs discovered on the M1 in Hertfordshire in January.
Three guns in a coffee table were also found at his home along with bundles of £20 notes behind a tumble dryer totalling £53,000.
He admitted six charges and was jailed for 16 years at St Albans Crown Court. The judge said he was involved in a "sophisticated" operation.
More Hertfordshire stories on the BBC Local Live page
O'Halloran was stopped in January between junctions nine and eight near St Albans and Hemel Hempstead.
Michael Speak, prosecuting, said other members of the drug network had been tracking O'Halloran through his phone.
They must have launched a "remote command" once they realised he had been arrested, which wiped any data connecting them to him, he said.
The cocaine was mostly of 83% purity which would have a street value of £8.3m-£12.5m.
A search of his rented home on Aycliffe Road in Borehamwood found three handguns under a lid in a coffee table and £57,408 in various places around the house.
'Willing part'
O'Halloran admitted possession of cocaine with intent to supply, possession of criminal property, three charges of possessing guns and one of possessing ammunition.
Claire Davies, defending, said he had been a courier who was paid £3,000 to transport the drugs, while he was storing the guns and cash for others.
The court heard O'Halloran had 17 previous convictions and had been jailed for 18 years in 1994 for conspiracy to rob banks in London.
Judge Stephen Warner, sentencing, said O'Halloran had been providing a "safe house" for the guns and cash and had "played a willing part" in the distribution network.