Cheshunt hammer and knife neighbour attack woman detained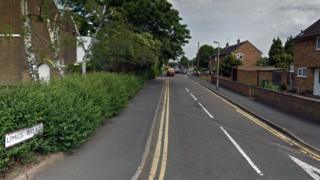 A woman accused of trying to kill her neighbours with a hammer and knife will be detained in a secure mental health unit until she no longer poses a risk to the public, a judge has ordered.
Emma Tudor Worrall, 42, attacked Luigi and Anna Guido outside their home in Limes Road, Cheshunt, Hertfordshire on 19 April last year.
She was found not guilty of attempted murder by way of insanity by a jury.
A judge imposed the detention order at St Albans Crown Court earlier.
During the hearing, the court was told Ms Tudor Worrall wounded Mr Guido him in the head and tried to attack his wife with the knife.
More on this and other news from Hertfordshire
When police arrived they had to use a Taser before arresting her on suspicion of attempted murder.
During her trial, the jury heard Ms Tudor Worrall, who denied two counts of attempted murder, had a history of mental health issues.
Both the defence and prosecution urged the jury to find her not guilty if they agreed she was "insane at the time" of the attack.
Judge Marie Catterson told the court Ms Tudor Worrall posed "a real, not a negligible risk of serious harm to the public".
"For the protection of the public" she imposed a Section 41 restriction order under the Mental Health Act, which means doctors will need permission from the Justice Secretary before Ms Tudor Worrall can be released.