Bogus school fraudster Tina Beloveth Powerful formed college while on trial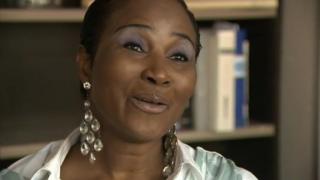 A woman convicted of setting up a bogus business school, who has been on the run for nine months, was involved in a similar venture while standing trial.
Tina Beloveth Powerful, 48, formed Multi-Diversity College while facing charges of fraud and false advertising over the Milton Keynes-based Everest School of Transformational Management.
She was convicted over the Everest scam but failed to appear for sentencing.
Powerful is thought to be living in Nigeria.
A warrant has been issued for her arrest in the UK.
Non-existent library
The case against Powerful and the Everest School of Transformational Management took place between August 2014 and July 2015.
She had offered courses and degrees she did not have the correct accreditation for and advertised facilities that did not exist, including a library.
The BBC has now discovered that while she was on trial Powerful formed another business school in nearby Bedford.
Companies House records show she is registered as a director of Multi-Diversity College UK, based in Duke Street at the home of the Nigerian Community Association.
The company was formed in February last year, with Powerful's husband Emmanuel Onyedike listed as its secretary and a fellow director.
There is no suggestion the company was involved in anything illegal, and it never actively traded.
The BBC understands Powerful and Mr Onyedike flew back to their native Nigeria last year following a death in the family.
One member of the Nigerian Community Association, who did not want to be named, said Powerful had come to them saying they wanted to start a college in Bedford.
"They came to me as I knew them as fellow Nigerians," she said.
"Right now she is actually in Nigeria. She went last year. I have written to her, but she hasn't replied."
Thames Valley Police said the warrant against Powerful remains outstanding.