One-punch killer Cortney Batchelor guilty of manslaughter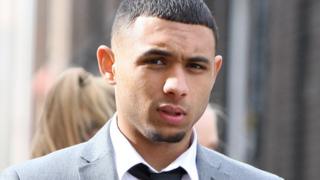 A civil engineer who killed a man with a single punch during a night out has been found guilty of manslaughter.
Cortney Batchelor, 22, from Luton, attacked Tomas Juska outside a bar in Dunstable last August.
The jury heard the pair had argued inside Club Cookies before the incident.
Batchelor said he punched him in self defence but was convicted at Luton Crown Court following a trial. He is due to be sentenced on 20 May.
The court heard he hit Amazon employee Mr Juska with an upper-cut punch, causing him to fall backwards and hit his head on the pavement, in the early hours of 23 August.
The 24-year-old was immediately knocked unconscious, but rather than stop to help him, the jury was told Batchelor and his friends laughed before leaving the scene.
The Lithuanian national suffered a lethal brain injury and died the next day.
Batchelor told the court: "I did not intend to cause him any harm. I would not have hit him if I didn't think and feel that he was going to hit me first."
But the jury was told he was overheard leaving the club saying: "I am going to smash him."
The pair had argued after Mr Juska gave his number to Batchelor's girlfriend who was a barmaid at the club.
Det Insp Fraser Wylie, of the Bedfordshire, Cambridgeshire, and Hertfordshire Major Crime Unit, said he hoped the case might make people think twice "before resorting to violence".
"Although Batchelor may not have intended to kill someone, you cannot escape the fact that a person died as a direct result of his actions on that night," he said.