Tomas Juska death: Manslaughter accused 'meant no harm'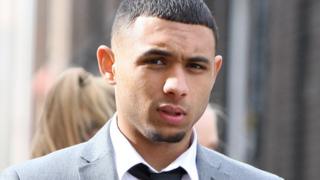 A civil engineer accused of killing a man with a single punch believed he was about to be "hit first", a court heard.
Amazon employee Tomas Juska was hit with an upper-cut punch outside Cookies nightclub in Dunstable by Cortney Batchelor, Luton Crown Court heard.
The 24-year-old suffered a lethal brain injury and died the next day.
Mr Batchelor, 22, of Paisley Close, Luton, denies manslaughter claiming he had acted in self defence after he was confronted by Mr Juska.
Giving evidence, Mr Batchelor told how Mr Juska, a Lithuanian national, was chatting to his girlfriend Sarah Haynes, a barmaid at the club, before passing her his phone number on a piece of paper. She gave it to Mr Batchelor, who tore it up.
He told the jury: "He saw me rip it up and smirked at me, but there was no confrontation."
Mr Batchelor said Mr Juska later confronted him.
'Face to face'
"He started to raise his voice and looked a bit agitated," he said. "I had not done anything aggressive."
Mr Batchelor told how he later encountered Mr Juska outside the nightclub.
"He was saying, 'you want to fight me?' and I said I didn't. He took off his bag and gave it to his friend and stepped towards me.
"We were face to face, and at that point he had his arms by his side.
"I told him I did not want to fight but clearly he was not listening. At that stage I thought he was going to hit me.
"I hit him with an upper cut and he went to the floor and I turned around and walked off.
"I did not intend to cause him any harm. I would not have hit him if I didn't think and feel that he was going to hit me first."
The trial continues.