Sandon goose death: Police close inquiry over 'shot' bird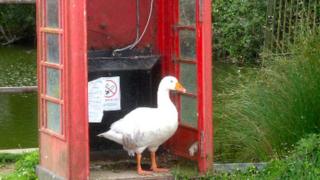 An inquiry into the death of a village goose said to have been shot dead has been closed by police after witnesses failed to come forward.
The body of the goose, known as Grumpy Gertie, was found in the village pond in Sandon, Hertfordshire, in February.
The gander's death sparked rumours he was shot by a group in a 4x4.
Hertfordshire Police exhumed the goose's body and found it had not been shot. Further tests have confirmed it suffered a blunt force trauma.
'Significant media coverage'
"Specialist officers have remained in contact with the Royal Veterinary College throughout the inquiry," a police spokeswoman said.
"Following further tests the college has confirmed the goose died from a blunt force trauma.
"However there is no physical evidence to confirm the exact nature of the trauma and despite significant media coverage, no witnesses have ever come forward to help the inquiry.
"The case has now been closed."
Gertie was not classed as a wild bird and did not have an owner which could be regarded as a victim of crime.
'Real character'
Police were called by devastated villagers after the body of Gertie, who features on the village sign, was found floating in the pond near the phone box where he made his home.
Villager George Wallbridge, who pulled the goose out of the pond, said he was told by witnesses that the bird was shot from a blue 4x4 car.
Within days the phone box was filled with flowers and tributes to the village "character".
Gay Ayton, from Sandon, said at the time: "He was a real character - he was hand-reared here and thought he was a duck.
"You'd see him in the middle of the road stopping traffic so the ducks could get by."
The tale was reported on BBC Radio 2 where listeners called in to donate money towards a reward to catch those responsible for the alleged shooting.