Drug barons ran network from Springhill Prison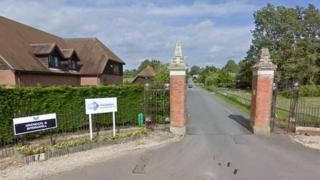 Two drug barons who set up cocaine deals while on day release from an open prison have been sent back to jail.
Anthony Delima-Bey, 32, and Kevin Bell, 33, ran a business from HMP Springhill, Buckinghamshire, where they were coming to the end of their sentences.
Seven others, who conspired to transport and supply drugs from London and Hertfordshire to Northamptonshire were also sentenced.
The gang built a network worth £13m, Northampton Crown Court heard.
A search of Delima-Bey's house in West End Road, Ruislip, found £14,300 in £50 notes, £4,980 in £10 and £20 notes and three Rolex watches with a combined estimated value of over £26,000.
Pieces of paper wrapped in cling film had names and numbers, believed to be a dealers tick list, and showed the business was worth £13m, a police drugs expert said.
'Flagrant disregard'
Delima-Bey was given 22 years for conspiracy to supply cocaine.
Bell, who pleaded guilty to conspiracy to supply cocaine was given 12 years.
Det Chief Insp Steve Durrant said: "Both Bell and Delima-Bey showed a flagrant disregard for the trust and privileges afforded them."
Others sentenced:
Paul Pierson, 36, of Hemel Hempstead, Zoltan Arva, 39, of Abbots Langley, and James Bell, 32, of Northampton, all pleaded guilty to conspiracy to supply cocaine
Pierson was sentenced to ten years, Arva to eight and James Bell to four years
Nicole Abrams, 28, of Northampton who pleaded not guilty to conspiracy to supplying cocaine, was sentenced to four years
Michael Bell, 34, of Northampton, pleaded guilty to supplying cocaine and was given two-and-a-half years in prison
Warwick Cobley, 46, of Deanshanger, who pleaded guilty to possession and production of cannabis, with intent to supply was sentenced to 21 years in prison
Blake Ross, aged 46, of Milton Keynes, pleaded guilty to possession with intent to supply and was sentenced to seven years