Airlander 10: World's 'biggest' aircraft's first unveiling since assembly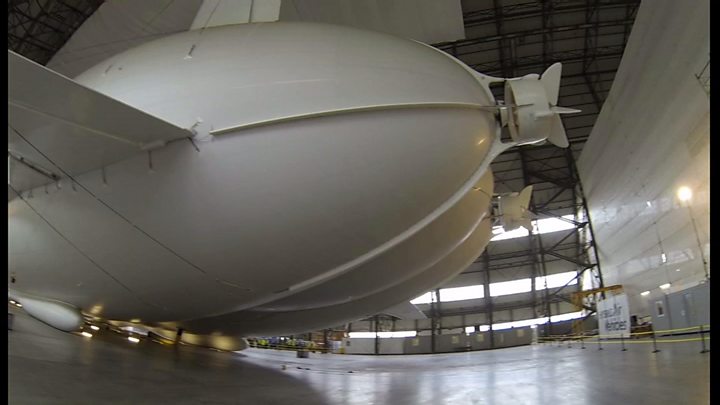 The world's "biggest" aircraft has been unveiled and floated for the first time since it was fully assembled in the UK.
The Airlander 10, which is 302ft (92m) long, was floated inside the UK's biggest aircraft hangar in Cardington, Bedfordshire, at a launch event.
It will carry out 200 hours of test flights later this year.
The aircraft, which was developed for the US government for surveillance, can stay airborne for five days at a time.
The British aerospace company which designed it bought the rights when the US Army ran out of money to develop it further.
Hybrid Air Vehicles (HAV) claims it could be used for a variety of functions such as surveillance, communications, delivering aid and, in the future, even passenger travel.
"It's very pleasant to fly. From the flight deck you have a lovely view," said chief test pilot David Burns.
"For the people on board and the people down below it's going to look quite a sight.
"You're talking about 300 feet long. There's nothing that size at the moment."
The Airlander 10
The aircraft uses helium to become airborne and has a top speed of 92mph (148km/h)
It is 143ft (44m) wide and 85ft (26m) high and weighs in at 44,100lbs (20,000kg)
The whole length of the aircraft is about 50ft (15m) longer than the biggest passenger jets
It needs 1.3m cubic feet of helium - enough to fill 15 Olympic-sized swimming pools - to get off the ground
Professor Chris Atkin, who will become president of the Royal Aeronautical Society in May, said he could imagine the aircraft "competing with cruise ships over really interesting environments".
"The view is quite extraordinary. It's a very relaxed experience. It will be a very quiet and stable vehicle to travel in," he said.
The firm is hoping to build 12 Airlanders a year by 2018, some as passenger aircraft that will carry up to 48 people at a time.