Swan in custody after Hertfordshire A1 motorway take-off bid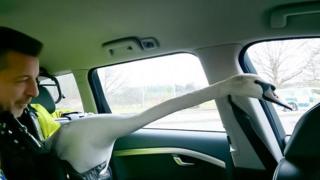 A jay-walking swan was taken into custody by four police officers after trying to use a busy motorway as a runway.
The bird was spotted trying to take off by running along the northbound A1(M) in Hertfordshire.
As vehicles swerved to avoid the determined swan, officers were called to rescue the bird, which was eventually persuaded to move to a petrol station forecourt.
Police drove it to a nearby lake.
More on this and other stories from Hertfordshire
The intrepid bird chose junction 10 of the A1 near Baldock "adjacent to the BP petrol station", to attempt to launch itself into the air last week, a police spokeswoman said.
"PC Paul Warner caught the swan, with assistance from PC Michael Macleod and PC Philip Watts.
"It was put into the back of the police car and driven (apprehensively) by PC Justin Smyth to a lake at Astwick Bury Farm [near Hitchin] where it was released."