Luton mass mobility scooters in protest drive at funding cuts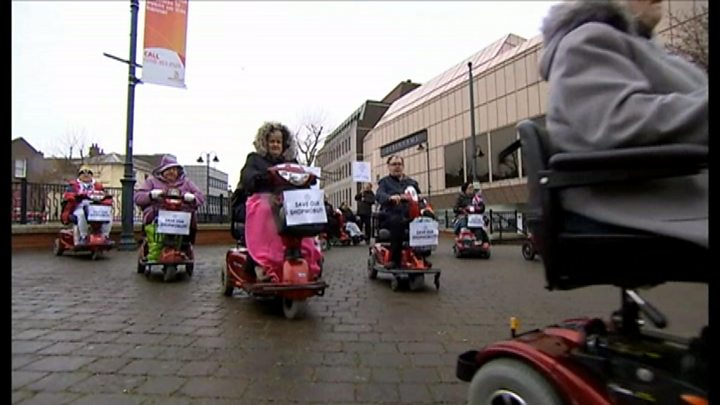 Dozens of mobility scooter users staged a mass rally to protest against possible cuts to Shopmobility funding.
About 30 people rode through St George's Square in Luton earlier.
The service, which has about 5,000 users, is under threat after the borough council recommended its funding be cut, organiser Tina Dye said. It could close in six months.
A council spokeswoman said she "empathised" with the protesters but government cuts forced their hand.
In December, Luton Borough Council recommended the scheme's funding be cut from April, Ms Dye said.
More on this and other stories from Bedfordshire
"At the moment we have no future if the funding goes completely.
"We have some monies in reserve but only enough to keep us going for six months, so unless we can find alternative funding and different ways of getting money into Shopmobility, we'll close."
The service has been operating in Luton for about 25 years and thousands of people are registered with the scheme.
More than 30 mobility scooter riders, wheelchair users and people with walking aids demonstrated outside the town hall, waving placards saying "we matter" and "hands off".
The intention was to "show how they feel, how this is going to affect their independent living", Ms Dye said.
"My message to [Luton Borough Council] is, please see what you will be doing.
"By ceasing this funding it will cause this service to close and it's a much-needed service. I just wish people could see how this will affect those that need it."
Naseem Ayub, the Labour councillor in charge of adult social care at the council, said while she "empathised" with those who used the service, "it's a very difficult position that we're in".
"We really don't want to have to make these cuts but... because of the cuts that we're facing from the government we're having to make these serious decisions on a weekly basis."