Seven arrested after High Wycombe fight involving 'up to 25 youths'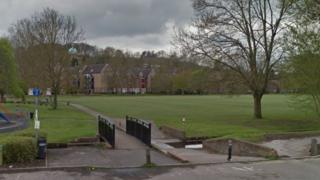 Seven people, including four teenage boys, have been arrested following a fight involving up to 25 youths, some armed with knives and baseball bats.
Thames Valley Police said between 20 and 25 people were involved in the fight at Desborough Recreation Ground in High Wycombe on Saturday afternoon.
Two 15-year-old boys and two aged 16 were arrested after the fight, with three more arrested on Sunday.
Police said violent behaviour would "absolutely not be tolerated".
The youths are being questioned on suspicion of affray and possession of an offensive weapon in a public place, police said.
'Extremely rare'
"Officers reacted swiftly and calmly to this violent disorder and were able to break up the fight and speak to those involved," said Sgt Darren Mitchell.
"Fortunately, no one was seriously injured, but there is no doubt that this incident could have escalated had police not intervened."
He added officers were still in the area speaking to residents about the fight, which he described as an "extremely rare" incident for the town.