Iditarod sled race: Dog lover taking part as 'midlife crisis birthday present'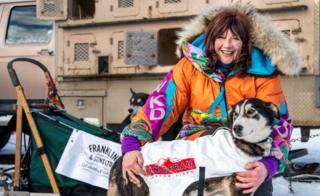 An animal rescuer is to compete in a 1,000 mile Arctic dog sled race as a "mid-life crisis birthday present".
Kim Franklin from Cottered, Hertfordshire, who turned 50 recently, is taking part in the Iditarod Trail Sled Dog Race across Alaska.
Mrs Franklin and her team of 16 dogs are hoping to complete the course, where temperatures can get down to -50C (-58F), in under two weeks.
"This is my mid-life crisis birthday present to myself," she said.
"It's the equivalent to a guy buying a Ferrari and driving it around with a big-boobed blonde."
At home, Mrs Franklin regularly takes in rescue dogs and also looks after more than 20 horses.
She competed in the race in 2008 and "always wanted to come back and do it but the timing was not right".
The race takes in a designated route north of the Alaskan capital Anchorage to Nome on the shores of the Bering Sea.
Her team of Alaskan Malamutes and Siberian Huskies will be regularly checked by vets along the way.