Rooster 'blinded in cockfight' dumped in St Albans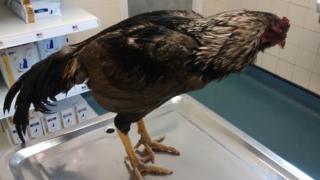 A cockerel blinded from having his eyes pecked is thought to have been dumped in a country lane by cockfighters, the RSPCA has said.
The bird was found badly hurt in Colney Heath Lane in St Albans on Monday.
Injuries to his eyes, chest and legs were "indicative of the barbaric blood sport of cockfighting", said the animal charity.
It hopes the bird - named Levi Rooster - will be able to see again once his swelling reduces.
RSPCA inspector Mike Butcher believes Levi had been used in "an organised fight".
His team specialises in tackling so-called "blood sports" such as cockfights, which have been illegal since 1835.
"This cockerel's spur had been cut off. This was probably to fit a metal spur so it could inflict maximum damage to the opponent's bird during a cockfight," he said.
The charity has appealed for information about who may have abandoned him.