Doctor accused of fondling patients' breasts in Hatfield surgery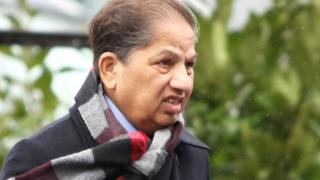 A doctor fondled the breasts of a teenage girl and three women patients during unnecessary clinical examinations, a jury has heard.
Dr Mohammad Haq, 74, of Parkstone Avenue, Hornchurch, London, denies 10 offences of indecent assault on four women in the 1970s and early 1980s.
The offences are alleged to have taken place at three surgeries in Hatfield, Hertfordshire.
The case is being heard at St Albans Crown Court.
Opening the case, prosecutor Miranda Moore QC told the jury the youngest victim was 15 when she went to see the doctor because she had swollen neck glands.
"He asked her to take her top, her bra and her trousers off. She was standing in her pants alone in the room with no chaperone. He told her to bend over. She felt stunned," said Ms Moore.
The prosecutor alleged when another woman went to Dr Haq to find out if she was pregnant, he told her to strip and squeezed her breasts.
The woman is said to have complained to the surgery receptionist, who "laughed at her".
When he was questioned by the police, Dr Haq said he could not remember any of the women involved and would not have done anything inappropriate.
The case continues.