Double killer Gary Vinter gets third life sentence for attempted murder of fellow 'lifer'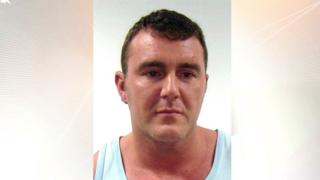 A double murderer has received another life sentence for trying to kill a fellow "lifer" at HMP Woodhill.
Gary Vinter, 46, originally pleaded not guilty to the attempted murder of double killer Lee Newell, at the Milton Keynes prison in November 2014.
Vinter, from Middlesbrough, changed his plea to guilty on Tuesday while on trial at Luton Crown Court.
Newell was kicked repeatedly in the head. A prison officer said they were the worst injuries he had seen.
Vinter and Newell are both serving whole-life sentences, which means they will never be freed.
The court heard Vinter attacked Newell in the special segregation wing because he wanted to be moved to a prison with better gym access.
He had requested a transfer two months earlier and was frustrated at the time it was taking.
CCTV footage showed Vinter punched Newell to the ground before kicking him numerous times in the face and head as he lay on the ground.
Newell suffered head and brain injuries and was left blinded in one eye.
'Shocking' record'
Senior prison officer Mark Kupczyk, said he heard the defendant say to officers, "that's what happens when you mess me about".
He said Newell's injuries were "the worst injuries I have seen in a prison in 21 years of service".
Passing sentence, Judge Richard Foster told Vinter: "You must be one of the most dangerous individuals within the prison system today. Your record is truly shocking."
He set a minimum term of 18 years, but called that an "academic exercise".
"You will in any event spend the rest of your life in prison," he said.
"However it is important - not least for Lee Newell and his family - that due process has taken its course."
Life sentences
Vinter stabbed work colleague Carl Edon, 22, to death in 1996 and served a 10-year minimum term.
In 2008 he stabbed his estranged wife Anne White to death.
In July 2011 he attacked Roy Whiting, the killer of schoolgirl Sarah Payne, at Wakefield Jail in West Yorkshire.
Newell killed a woman in Norwich in 1998 and in 2013 strangled convicted child killer Subhan Anwar to death in Long Lartin Prison in Worcestershire.