Luton Airport stag do arrest over Easyjet plane delay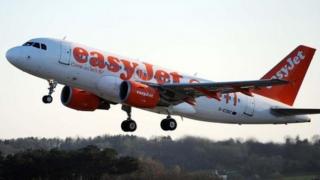 A man has been arrested after a flight was delayed for more than an hour at Luton Airport by a group on a stag party.
Easyjet said flight EZY2159 to Amsterdam had 164 passengers on board when officers were called to deal with a "disruptive" passenger.
It was due to leave at 15:20 GMT on Thursday but departed at 16:21 GMT.
A 35-year-old man from Holland was charged with being drunk on an aircraft and three others removed by police.
An Easyjet spokesman said it "did not tolerate abusive or threatening behaviour onboard".