Van crash death: Driver's 'vision impaired' after spray in the face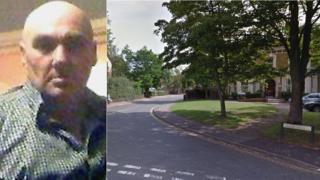 A van driver accused of killing a man by driving at him and reversing over his head has claimed he could not see after the victim sprayed fluid into his face, a court has heard.
Michael Turner, 57, of Landau Way, Turnford, has denied the murder of Frank Buckley, 51, in the village.
St Albans Crown Court heard Mr Turner said his vision was impaired and he hit something as he drove off.
He told officers he thought he might have hit a roundabout.
The court heard that during a police interview, Mr Turner said he believed Mr Buckley sprayed fluid in his face from a "little brown bottle" because of a fist fight 20 years ago.
He told officers he had stopped at a roundabout in the Hertfordshire village to let a car pass when Mr Buckley came up to him swearing.
"I said to him to go away and he squirted something through the window at me," he said.
'Face burning'
He said he had got out of the vehicle and was sprayed in the face for a second time, so got back in the van.
Mr Turner said as he tried to accelerate away he lost control of the vehicle and, with his eyes and face "burning", felt the car strike something.
The jury was shown film footage of Mr Turner handcuffed to a bed at the Princess Alexandra Hospital. He had suffered superficial burns to his face and chest.
He was adamant during the interview he had not intended to hurt or kill Mr Buckley, the court heard.
He claimed he would have stopped at the scene if he had not been "frightened for his life".
Earlier, the prosecution said the two men had been seen fighting in Groom Road last June, the same street where Mr Buckley was struck.
Mr Turner is alleged to have returned to his VW Caddy van before driving at Mr Buckley and then reversing over his head.
He died after suffering multiple injuries, including a fractured skull.