Men jailed for IS promotion outside Topshop in Oxford Street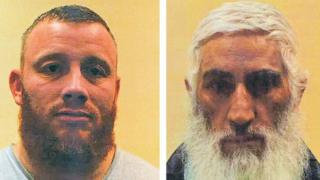 Two men from Luton have been jailed for promoting the so-called Islamic State outside Topshop in London's Oxford Street.
Ibrahim Anderson, 38, and Shah Jahan Khan, 63, were found guilty of inviting support for a proscribed organisation.
The Old Bailey heard they were in a group that set up a stall near the store on 9 August 2014.
Anderson was sentenced to three years, and Khan to two years.
Passing sentence, Judge Kramer QC said the danger posed by inviting support for IS was "often to young people who are lured to Syria and Iraq and to a potential death".
Anderson was arrested in December 2014 following complaints from two Muslim sisters who, having objected to the group's views, were told to "go and die".
Distributed leaflets
During their trial, prosecutor Mark Seymour told jurors that Khan, of St Catherine's Avenue; and Anderson, of Dallow Road; had spent two-and-a-half hours speaking to passers-by and distributing a leaflet.
He said both "would have been well aware that this is what they were doing".
Anderson's home was later searched and a notebook computer was seized containing three images that "formed part of a set of instructions for travel to Syria to support jihad", Mr Seymour said.
Latest updates on this story and more from Beds, Herts and Bucks
The Muslim convert, who represented himself in court, told jurors he had only wanted to practise his religion and exercise his freedom of speech.
"I have been brave enough to come and fight my corner because I know I am innocent and have done nothing wrong," he said.
Previous convictions
He had denied knowing the other people who had gone to Oxford Street that day for dawah (call to Islam) - and said he only glanced at a leaflet he was given.
Anderson, a father of five who worked as a motor mechanic, was also found guilty by majority of possessing information likely to be useful to a terrorist, in December 2014.
The court heard that Anderson had previous convictions for assault and possessing an imitation firearm; while Khan, a driving instructor, was previously of good character.
After the sentencing the Eastern Counter Terrorism Intelligence Unit said it was "working hard to engage with our communities" to "identify, protect and support" those who could be drawn into terrorism.
Det Chief Insp Glen Channer said: "We are committed to working with our communities to crack down on any small minority with extreme views who seek to radicalise vulnerable people in our society."
The Metropolitan Police's Counter Terrorism Command said the sentencing showed that supporting a terrorist organisation would not be tolerated.